Introduction
I see a lot of transformation in the reading habit of people. While I tried to understand from the youngsters about their favourite science magazines, they don't know any. Why it is happening like this is because the habit of reading is concentrated on electronic gadgets like mobile phones. The video OTT platforms do not have all the science and technology information.
Here one thing is clear. Present-day intelligent people are spending most of their reading time on electronic gadgets. They are information hungry and want to see high-quality digital content. Now, the question is that where from the high-quality content for digital visual media come from?
Science Magazines in India
In my childhood, there was Science Today magazine in India. The CSIR was publishing Science Reporter and there was another popular science magazine called Invention Intelligence. Later there was a HoneyBee, Science India, Dream 2047, followed by various organizations bringing out their own research update magazines carrying an array of subjects for the knowledge-hungry public. From Russia, we used to get Sputnik magazine and from the USA we used to get Scientific American. I was subscribing gratis copy of California Agriculture, which was amazingly colourful and was with an array of different crops and hi-tech machinery.
Now, print copies of these are rare. In fact, in my neighbourhood newsstands, I never find such magazines at all. Now, ever since Covid-19 pandemic, newsstands hardly carry any magazines other than the daily newspapers. So, some of the intelligent people who used to read interesting stuff in these magazines are also now spending their time on social media. Whether the social media carries science and technology information? Some of you might not have observed this aspect from an investigative angle.
Digital Scenario
This made me explore social media, OTT platforms and the rest of the worldwide web with customised search and with my earlier exposure to the print media magazines dating back to about forty years.
I don't deny that there are groups of learned people discussing various aspects themselves. Most of these are peer groups. There is a gap!
We have a lot of creative-minded youth in graduate, postgraduate, research and teaching fields. While coming back to the science magazine aspect, whether there are digital copies of these on the worldwide web?
Indian Popular Science Online
Based on my hunting over the Internet, I am enlisting you a long list of open pages on science and technology happenings all over the world.
I take pride to present you some of the Indian locations, first with the main intention to make you aware of the existence of selfless services of a group of people trying to disseminate the stuff to the public. They know that the moderately cheaper economy of our country and the large group of medium class people belong to their consumer category. So, let us go – Made in India.
Science Reporter
The National Institute of Science Communication and Policy Research (Formerly NISCAIR) publishes an online portal of Science Reporter. It has a print version also available for sales on newsstands. Science writers can communicate articles of 1000 to 3000 words for this. They only publish easily understandable creative or popular science articles through these channels.
https://sciencereporter.niscair.res.in/
To support this on visual medium over the YouTube platform the CSIR has a lot of video streamings. These are all from the subject experts in the field with vast experience and exposure.
Dream 2047 and Science Wire
Under the Government of India, Vigyan Prasar is the organization from the Department of Science and Technology, committed to the dissemination of scientific knowledge to the masses. Dream 2047 and India Science Wire are the two bilingual media doing the science popularization. The former carries science popular articles and the latter carries S&T news.
The Science Wire is in HTML format http://vigyanprasar.gov.in/isw/isw.htm whereas, the Dream 2047 is in pdf https://vigyanprasar.gov.in/dream-2047/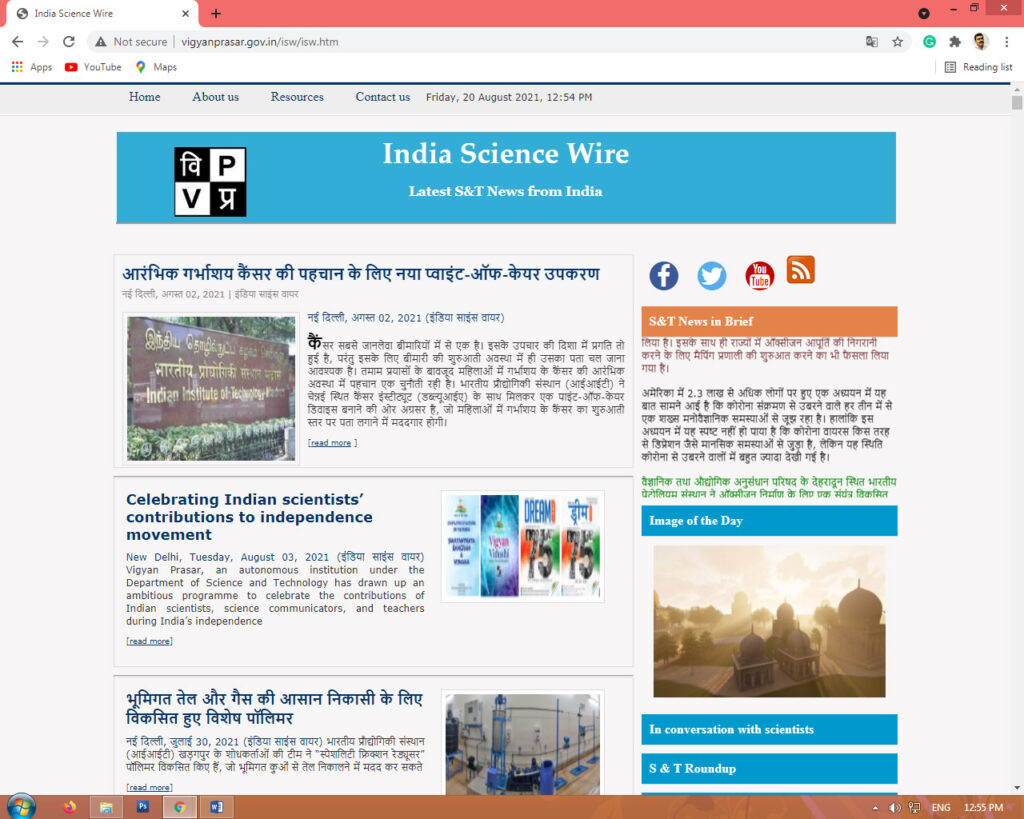 India Bioscience
India Bioscience is a group of biological scientists with a view to collaborate and disseminate scientific information. This is to promote new technologies and development for change in the sector. It has full-fledged public face of digital communication through its official website https://indiabioscience.org/ and by means of its blog. It has an exclusive page called 'Columns' for authors to contribute their popular science articles. It also has public videos on its YouTube channel: https://youtu.be/l2AcMsjOLVI
Invention Intelligence
National Research Development Agency (NRDC) is an autonomous agency under the Government of India to promote research and technology development. It also acts as an agency to license technologies mediating with industries by communicating technology information by protecting original intellectual property. It has a magazine popularizing Indian inventions. The Invention Intelligence magazine is available to the public as a printed book for a price of INR 60.00.
Down to Earth
The Centre for Science and Environment has its own set of the portal with the integration of an array of other webpages taking you through a varied range of information from science to social policies. One of the noteworthy is the Down to Earth magazine webpage. With inspirations from many corners, one of the instrumental being from the HoneyBee Foundation by Prof. Anil Agarwal, it is a trendsetter in the science communication arena in India.
https://www.downtoearth.org.in/
It has a dedicated India Environmental Portal, Rain Water Harvesting, Blog, etc as subsidiaries.
http://www.indiaenvironmentportal.org.in/
ICAR News
The Indian Council of Agricultural Research (ICAR) spread across the country is releasing a large number of superior and economic crops for different needs. More and more research on the farm is targeted to bring down drudgery and increase profits. These are shared to the public in pdf format newsletters from the ICAR in the name ICAR News https://icar.org.in/taxonomy/term/55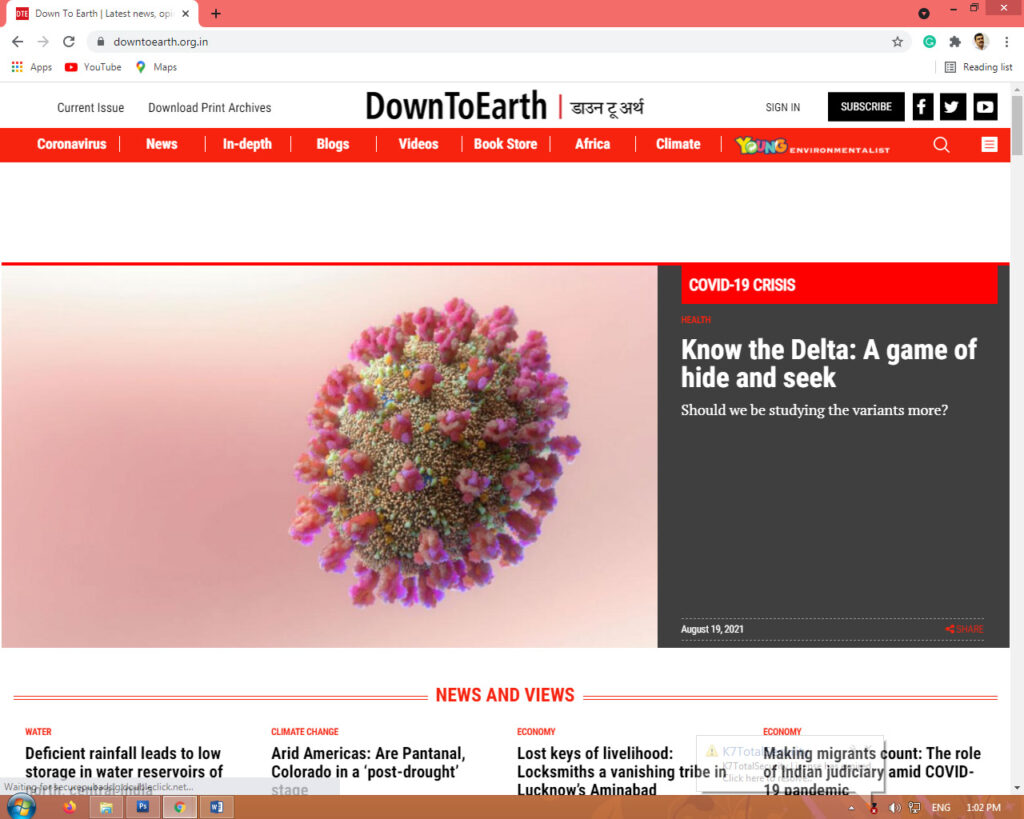 In the regional languages, India contributes in a varied manner. Starting from the Vedic Literature in Sanskrit, Dr Gajanan Phondke in Marathi, Prof. Anil Agarwal in Gujarati, Dr. Kollegala Sharma in Kannada, are a few gems to my limited knowledge. In the Indian scenario of science communication to the masses, we have many more gems to add, starting from Dr. Manoj Patairia, Dr. Karishma Kaushik, Prof. R. Ramanujam, Prof. Mrinal Chatterjee, again to my limited knowledge.
अणोरणीयान् महतो महीयान आत्मा गुहायां निहितोस्य जन्तोः |
तमक्रतुं पश्यति वीत शोको धातुः प्रसादान् महिमानमीशं ||
From Upanishad
All the writings in the future may not be contained in these limited magazines. In the future, there may be content sharing portals coming up on the internet on science and technology alone. There are scores of important branches in S&T and also there are a lot many specializations in these branches.
Last Words
So, dear friend, if you have an aptitude to communicate science and technology to the public. this is the right time. There are enough opportunities and modes of communication suitable to cater the needs of your favourite subjects and a large number of readers are waiting for useful content. It is the right time to be active in this aspect. So, begin systematically and flourish with glory in digital media platforms with due recognition coming in your way forward.