In India there is a saying "house construction, marriage or employment are considerably difficult tasks". At a given point in time, we need coordination of many things to complete the tasks successfully.

An integral part of development is construction work. Construction of various types of infrastructure such as buildings is very much important for developmental activities. Constructions are highly dependent on construction materials as well as skilled labourers. Due to the large amount of construction work, there is heavy demand for raw construction materials. These include bricks sand cement stones granite Steel wood and other related materials. In the locations of development, there is heavy demand for the land area also. requirement of space for storage of raw materials.
Whenever there is a heavy demand for raw materials there are many related things that happened due to the scarcity of raw material. In order to regulate the illegal operations related to the construction raw material business, government interfere to control and distribute in a balanced manner.
Due to raw material scarcity, some alternative materials have emerged such as lightweight fly ash based bricks, gypsum powder and recycled material boards. If you are facing a shortage of raw materials such as sand for cement mortar based plastering, now there are alternatives. Gypsum or Plaster of Paris (POP) is the best alternative for offices and livingrooms. Plastering with cement or lime needs sand as an additive for volume and durability. Chemically gypsum is calcium sulphate dihydrate (CaSO4.2H2O). It is present in mineral deposits on the earth.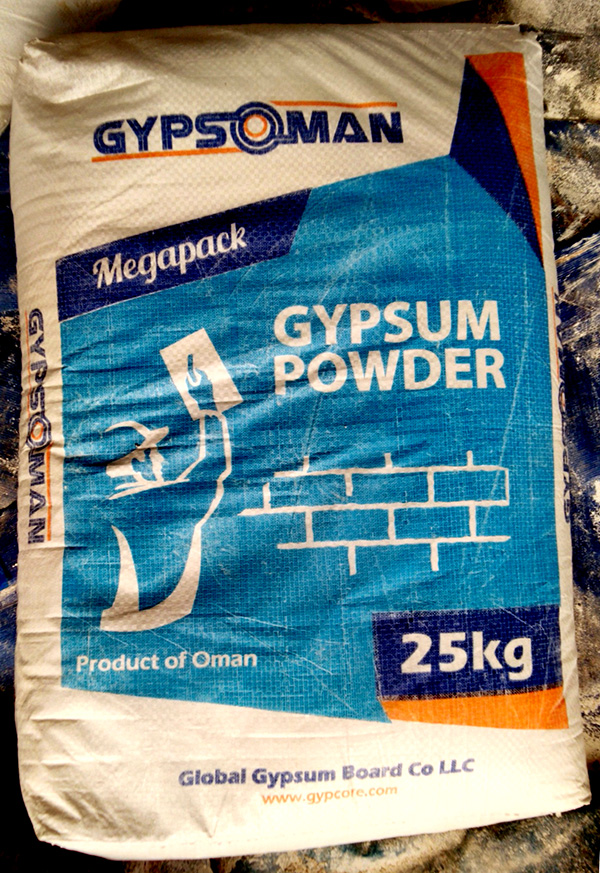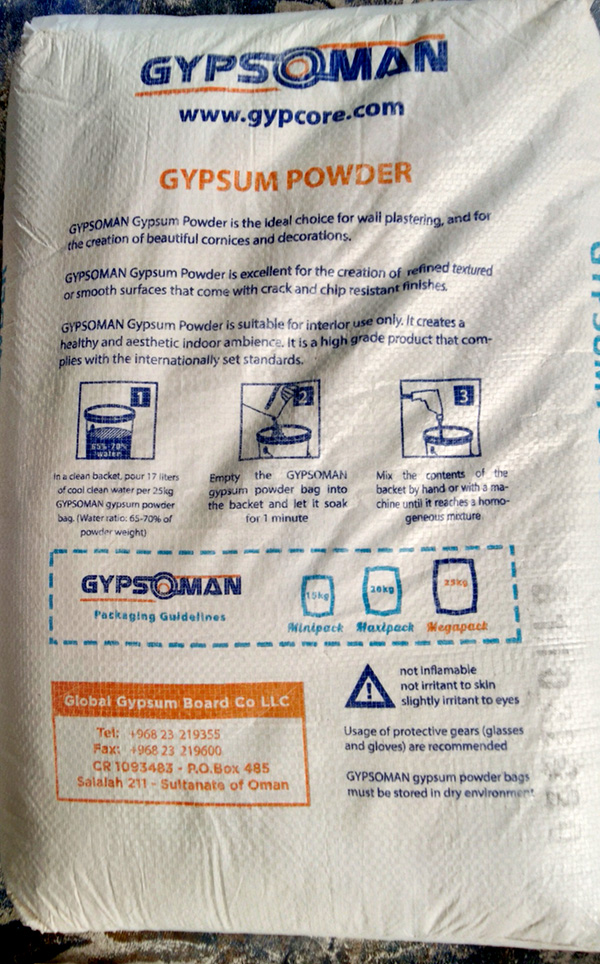 In terms of durability under harsh weather conditions such as rain or washing alone POP stands behind cement and at par with lime. For interiors, its life is much longer than the cement or lime plastering extending for more than a century. It prevents the cracking of cement plastering to a considerable extent. Lime plastering with sand is an alternative with less strength and thickness. Both provide an even look after finishing with primer. Different from these POP allows you to do the work without sand and less water. This gives you an excellent finish with a whitish appearance.

Since RCC roofing and cement plastering are felt as the hot environment inside the living rooms, cooling requires more and more energy consumption. Plastering and fine finishing of cement also require a lot of labour and fine materials.

Plaster of Paris or gypsum powder has been gaining a place for plastering walls and ceilings for a cooler environment. Finishing also requires less time by using gypsum powder. Moreover, it does not require any other material than water for dissolving.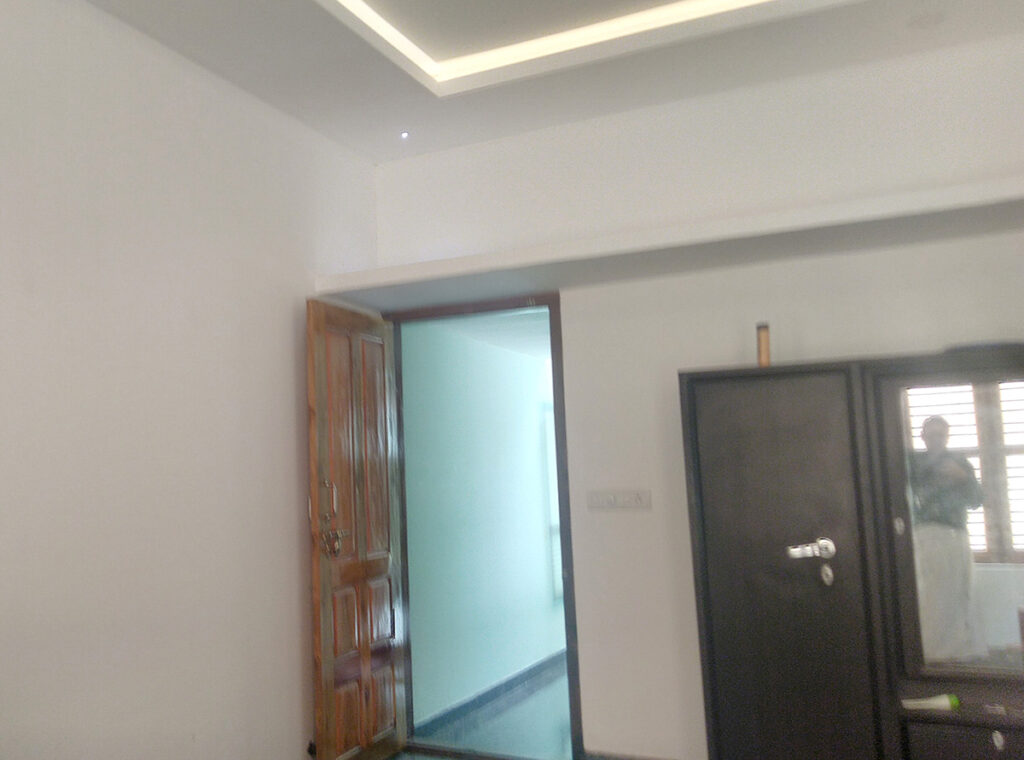 Uses of Gypsum
Mixing in portland cement
Model making
Making dies
Wall plastering and putty
Industrial products
Fertilizer in agriculture
Advantages of POP
POP is more friendly for human living due to its coolness and smooth texture. Present RCC roofing and urban heat demands for cooler alternatives, to which POP stands the best. Once people experience this with personal satisfaction, they appreciate and recommend it to others without hesitation.
Moderate strength

Fast setting ability without cracking

Smooth and cool finish

Healthier for human beings

White colour which does not need overlays

Gypsum is also mixed with cement in different proportions for more strength.
A whiter look is more acceptable compared to a grey cement finish. moreover, it saves on white cement coating, which is also not as cool and smooth as POP.
Plaster of Paris (POP) punning is as simple as cement plastering but does not require any cemented base over with bricks. Soon after the curing of bricklaying, POP punning can be done quickly to finish it in a single day. Due to quick finishing advantages, office or studio constructions in cities are done by using gypsum powder nowadays.
Since only gypsum powder and tap water needs involved for wall plastering, there are not many complications involved with storage and transport of construction materials. Ceilings also can be set up very easily and with beautiful designs using gypsum boards.

One part of water needs two parts of gypsum powder for good hand application of POP mortar for good plastering. It sets in 20 minutes. So, it will be ideal to apply one meter wide and two-meter height at a time. It requires about 10 kgs of gypsum powder for this much area. First level guide strips are laid all over the walls of a room. Then plastering is done part by part.

Tools required are buckets, mugs, basins, trowels, levellers, water/spirit level gauges, blades, scrapers, etc.

Brick walls, POP plastering, POP or wooden ceiling and clay tiled roof together give comparatively cooler living rooms in the tropical climate. By choosing such a combination, one can not only save construction costs and time but also saves a lot of energy consumption for cooling later on.
Steps Involved
Dissolving gypsum powder in half part water,

Mixing quickly,

Applying mixed mortar on the surface (POP punning),

Levelling the surface,

Smoothing and finishing.

This total procedure requires only 30 minutes.
This is because, the gypsum powder in water mixture solidifies in 30 minutes. After solidification, it is not possible to re-dissolve it.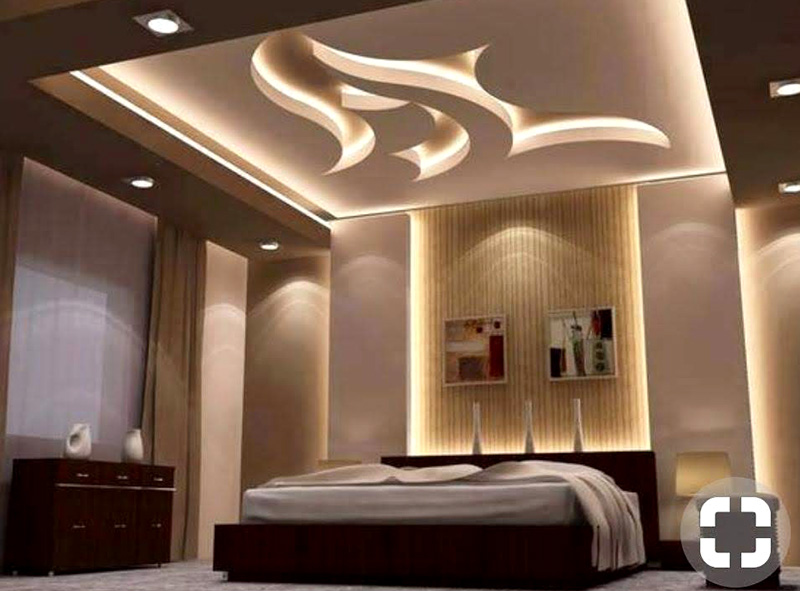 Courtesy:
Shri Ram Singh
Near Goods Carrier Stand
Kadandakkad, Kasaragod
Kerala – 671121
Mobile – +919929957906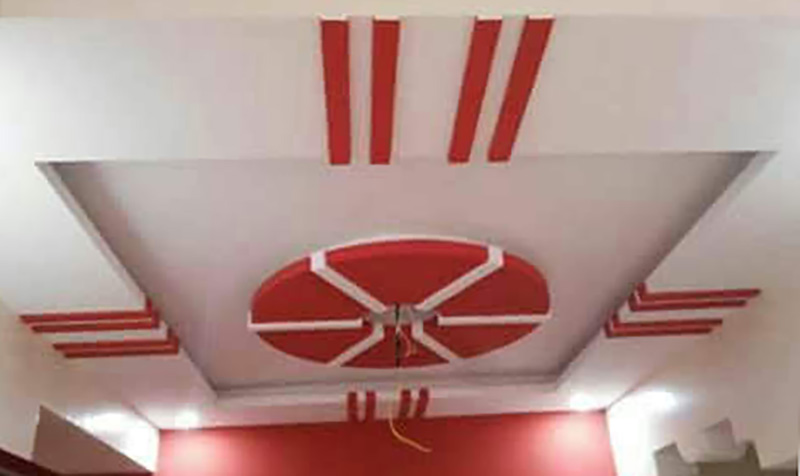 Disadvantages of POP are non-suitability for external surfaces due to moisture absorption and mould growth very quickly. The strength of the surface to tampering is also a weak point for POP plastering. Due to its low knock-out tolerance, dirt accumulation in humid environments, less wash friendliness and lesser suitability for industrial, kitchen and exterior environments, cement is preferred in these locations.
However, it is nowadays preferred more in living rooms and coating false partitions and ceilings in business establishments due to its quick curing ability. Skin-friendliness and personal feeling of satisfaction are unparalleled. Increased durability, low cost for painting and softer finish gives amazing personal experience inside living rooms and bedrooms. Along with these, it is also pocket-friendly with cheaper Rajasthan product and comparably economic Oman product. European products are anyway costly. Thus advantages outcast disadvantages, making it present trend in wall finishing. So, it is a futuristic material, worth considering for preparing walls and ceilings.