Having online meetings is very interesting and very useful too. Online video meetings are powerful tools if we use it in the right sense. Recently, a lot of teachers, lecturers, tutors, coaches, small business organizations, cooperative networks across the globe, mangers having operations in different locations and assistants there, etc. are worried. They are unable to do their activities due to lockdown. In order relieve anxiety they have opted for using free webinar, video streaming and online meeting platforms. The minimum requirement for this is only a smartphone with a good internet connection and the best is the video gaming computer system.
Meetings Online
Video meetings are somewhat confusing in the beginning. People feel nervous when they see the other person on the screen. Slowly you will lose nervousness and by practice, one can become a good performer in online meetings. The person who is starting the online meeting will be having controls.  Others joining in the meetings can also click and speak with video. Just like having a meeting in a room with a physical presence, here even though we are in different locations, we can virtually come together and conduct a meeting on screen. Whatever things which can be shown through the computer can be shown to the participants by screen sharing option. These may be whatever which can be seen on your computer screen.
Once if you become used to this, you become its lover and feel you must participate or host a meeting regularly online. To suit your requirements, there are free as well as paid platforms with various facilities. Even the good old Google Hangout, Skype and IMO are on one side with limited options. On the other, there are high-end ones like the Streamlabs OBS, Zoom, Jitsi, Apache OpenMeetings, Demio, Webinarjam, etc. Depending on the requirement of a single speaker or multiple speakers, the required software can be chosen.
Popular Online Meeting Platforms
With the awareness of the possibility of conducting meeting from home, involving the entire community of officials of an institution or organisation or a company, webinar and video conferencing platforms are becoming very popular. Despite allegations, Zoom app is emerging as a top video conferencing solution worldwide. There are a lot of other platforms available on the internet such as Jitsi, Skype, Hangout, Demio, Webinarjam, Facebook Live, YouTube, Apache Meet, Streamlabs OBS, etc. which are also useful. However, with the integration of encrypted conferencing facility introduced recently, Zoom is the industry leader for this purpose.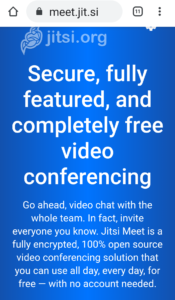 System Requirements
Smartphone or a computer laptop/ desktop with an internet connection.
It also should have a web camera, speakers and microphone.
Here I am introducing two very good online videoconferencing options. Both are good in themselves but differ in options and costs. These are good to conduct classes online. First one is the free open-source software called  Jitsi Meet. The other is recently popular Zoom which has free as well as paid options.
Jitsi Meet
Jitsi Meet is a free platform which is open-source and user-friendly software.  It works as a pure web browser-based application which does not need any of the other computer software applications. Participant number is limited to 50 here and a session can be up to 90 minutes. So while fixing a meeting, fix it for one hour with some pre-meeting and post-meeting live discussions.
Jitsi Meet has videoconferencing, delivering a talk with screen sharing with PowerPoint or other software presentations, text chat, co-host options.
Installation and use
If you are interested, you can install the Jitsi plug-in for the web browser for the smooth running of the application. For mobile phones, there is a separate APK. That can be downloaded from the Google Play Store and installed for comfortable use. Plug-ins are available from the website meet.jit.si for desktops, laptops and mobile phones.
Go to Jitsi and start meeting with a name and click "OK".

Now you are online. You can invite others to the online meet instantly or you can prepare a meeting schedule using a calendar.

If you use a password, users can join you only by typing the password.

If you give a very general name as "painting" for your meeting, without password, there is all possibility of unknown users entering the meeting accidentally by entering the same name.

If specific name and passwords are given, secured with a password, the platform is also encrypted. So it is safe and secure.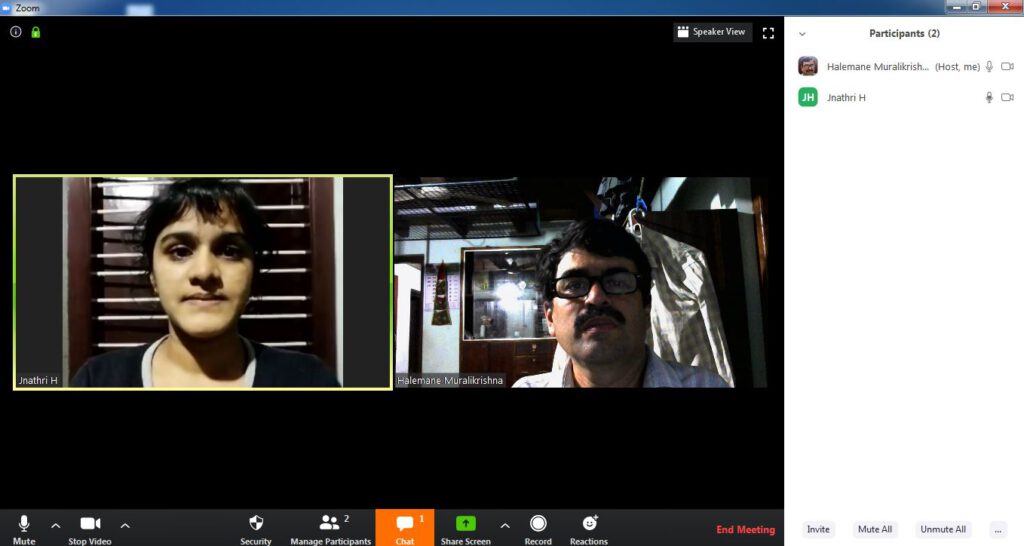 Zoom Meeting
Zoom is a video, audio and screen sharing software online with a connected audience.
In Zoom the person who conducts zoom meeting is known as the 'host' and the viewers or audience is called as 'participants'.
Installation and use
On a Computer
1.    Download "Zoom" meeting application from its authentic website, the URL is https://zoom.us/download. It has a new encrypted meeting version. Here is a link for you for download. After completing download it asks for installation.
2.    Open the downloaded file "ZoomInstaller.exe"
3.    Click "Run".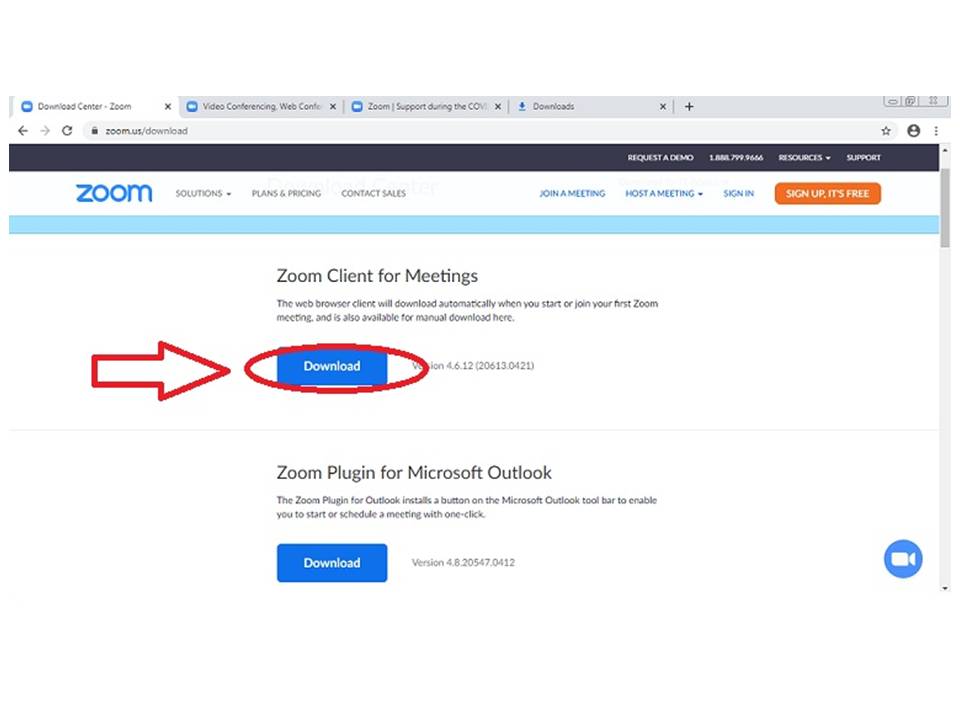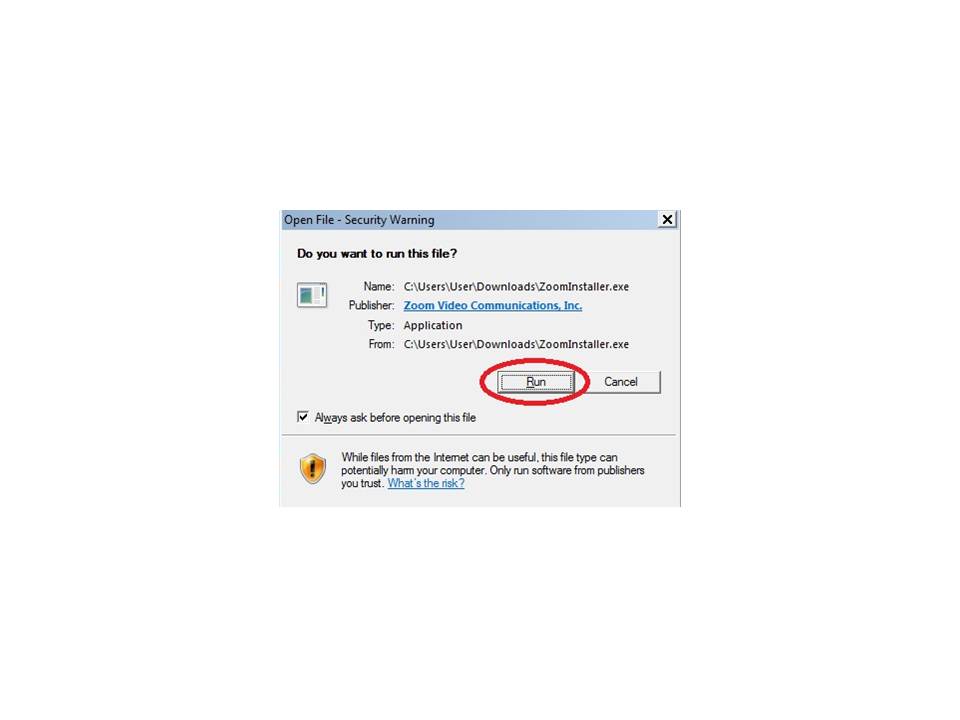 4.    After successful installation Zoom application will open automatically.
For host signup, it asks for the email ID. For participants also email ID is a must for login. The name provided for registering the email id will be displayed during the meeting.
The host has the option of starting the video conferencing immediately or it can be scheduled meetings. Once you start a session, you will get the meeting link. This link can be shared with the participants. There is an option to set a password.
A host should log into the video conference on the first instance. If a calendar of the meeting is prepared well in advance, and communicated to all the participants it will be very useful.
Participants can open the zoom and enter the meeting ID as well as password to enter into the current meeting. If it is a recurring meeting, then the meeting ID will be available from the history by just clicking the dropdown arrow for joining.
5.    Click on "Join a Meeting"
6.    Enter the meeting ID provided by the host
Meeting ID: 222 4444 3333        Password: 123@#xxYY0
7.    Enter your Name
8.    Click on Join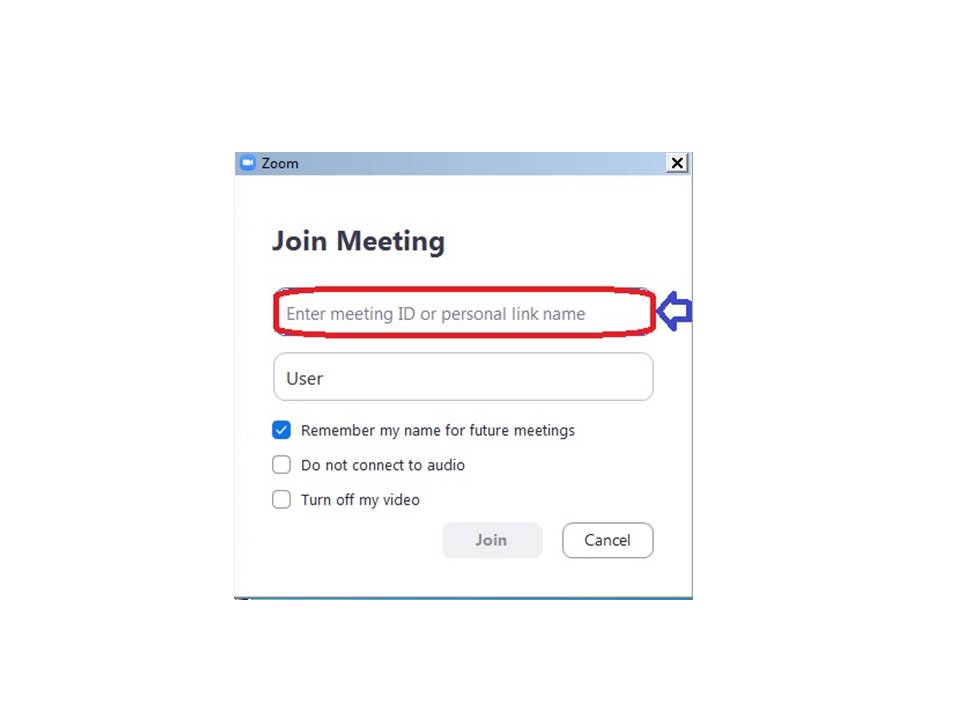 9.    Enter meeting password provided by the host
10.    Click on "Join Meeting"
11.    Click on "Join with Video"
12.    Click on "Join with Computer Audio"
13.    You can check the audio settings of microphone and speaker by clicking with the 'Test Speaker and Microphone'.
On Android smartphones
The android version of the app is available here in case you cannot connect through your computer. https://play.google.com/store/apps/details?id=us.zoom.videomeetings&hl=en_IN
Security concerns
If you are still concerned about the security issues, you may prepare your computer for the online meetings. Remove all personal account numbers and passwords from the computer and store those elsewhere.
You may also make a separate email ID for such online purposes, which is not linked with any of your bank account or security-related things.
Do's and Don'ts
Try to join the meeting right on time.
Once after entering into the meeting, if you are not the speaker, please turn off your video and microphone.
After the speaker starts his speech, keep all other microphones off.
If you have to appear on video, sit right in front, attentively. If any disturbance occurs at your side, mute audio.
Quickly answer the questions, exactly to the point.
Final  Words
In the present day digital world and the start of 5g mobile data transmission and Internet of things, one should move ahead and become up to date. Utilizing online facilities can boost your expression ability and visibility as a worthy personality. Otherwise, we will get easily sidelined and fall behind in the tech-savvy environment. When the world is fast developing with the digital revolution, we must be part of the changing world to do something for a better world.